2020 was a crazy year, and we're seeing some cool kitchen design trends because of it. Of all the rooms in your house, your kitchen likely saw the most action in 2020. With so many people staying at home making artisanal pizza and using their countertops as an office or classroom, this room endured plenty of wear and tear. And that means it might just be the room that's most in need of a refresh.
But where to start? For inspiration, we consulted with top designers from coast to coast to uncover the hottest kitchen trends in 2021—what you need and what you'll totally want. Some of these design changes were expected after a year of staying at home, while others might totally surprise you.
"We're seeing some dramatic shifts as a result of the pandemic," says Janice Costa, president and founder of KB Designers Network.
No matter what, 2021 will see the kitchen transformed into a space that can do the heavy lifting in a myriad of ways—with lots of comforts and a little fun thrown in. Without further ado, here's what's cooking designwise in the kitchen this year.
1. Larger Kitchen Islands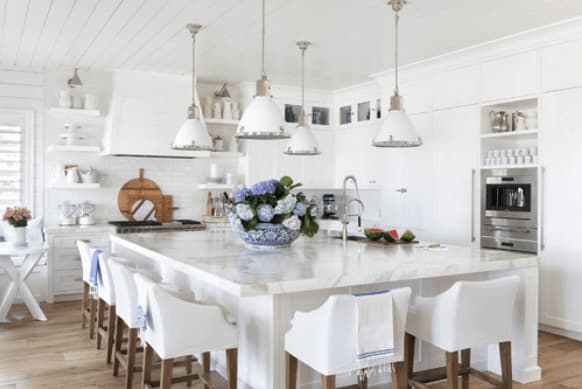 Islands are no longer just a place to slurp down cereal before heading out the door. Instead, homeowners are increasingly using their kitchen islands as work, study, and leisure areas—in addition to a place to prepare food.
"Larger kitchen islands are here to stay," says Ariana Lovato, owner and principal designer of Honeycomb Home Design in Shell Beach, CA. "People want to have as many workspaces as possible, with the kids now doing virtual school."
Large islands also make kitchens less transitional spaces and more of a central place to hang out in the home.
Are you shopping for a home with a kitchen you love?
2. Less Open Layouts

Open layouts have been beloved in recent years for eliminating barriers between the kitchen, living, and dining spaces in order to bring family members together and make entertaining easier. But now those large spaces are being rethought due to their lack of privacy.
"That doesn't necessarily mean that the traditionally walled-off spaces will return," says Costa. "But you can expect to see more privacy niches, sound dampening materials, kitchen desk/nook/workstation areas, and quiet corners in 2021."
3. A Revival of Wood Finishes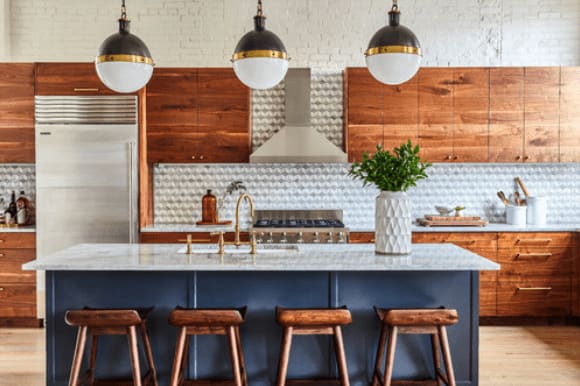 It may be 2021, but there's a revival of natural wood happening that pays homage to vintage kitchens of the 1970s.
"For years, homeowners have been ripping out old wood paneling, but with a rise in affordable synthetic or engineered wood alternatives, the possibilities of adding wood are now endless," says Georgina Borneman-Street, CEO and principal designer at Cobalt Blue 1802 in Los Angeles. "It's a nice mix of retro meets modern."
Look for upgraded wood veneer paneling with a subtle or light-grain finish to add that natural element to the kitchen.
4. Handleless Cabinetry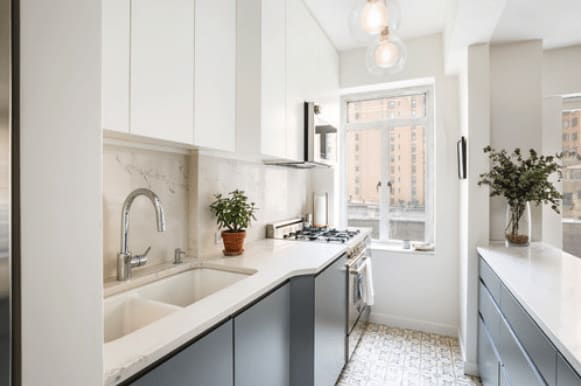 "We've all heard the suggestion that adding hardware to cabinetry is considered an upgrade, but when done right, the handleless design feels high-end," says Borneman-Street.
Handleless drawers and cabinet doors also lend a futuristic look, giving a kitchen a sleek feel with clean lines.
"The totally seamless design creates an effortless flow throughout the kitchen," adds Borneman-Street.
Bonus: Cabinetry without handles tends to be easier and quicker to clean and sanitize, too—a new essential feature in this pandemic era.
5. Darker Hues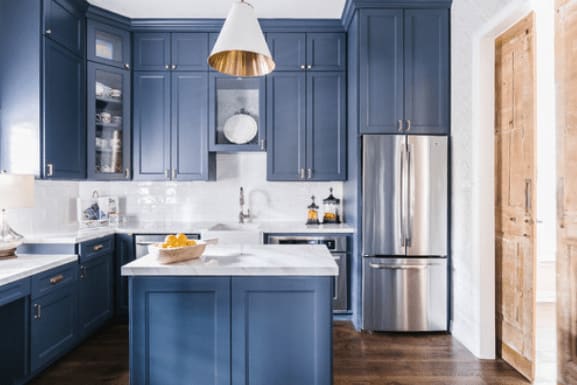 The all-white kitchen has been on its way out for the past several years, and we've collectively become more comfortable dipping our toe back into the color pool. Well, this year, expect to dive into the deep end.
"Deep blue, charcoal, and dark green are all big color stories for 2021," says Mark Cutler of Los Angeles' Mark Cutler Design. (Bonus: Darker colors are also more effective at hiding stains.)
Color is showing up in appliances, too, with a swing away from endless stainless steel into reds, blues, and custom colors.
6. Smart Technology Everywhere
The popularity of smart appliances has been steadily growing over the past few years, but the coronavirus pandemic has kicked that trend into overdrive.
"A refrigerator that can track what you're running low on and reorders for you feels less like bells and whistles extra and more like a super useful feature when you're already using food delivery services," says KB Designers Network's Costa.
And since hygiene issues are top of mind, you can also expect to see smart kitchen features such as touchless faucets.
7. Secret Scullery Rooms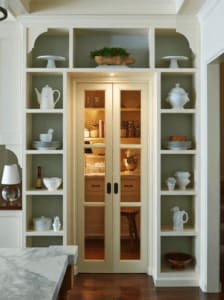 Looking to add a little mystery to your space? Try this one on for size.
"One kitchen design trend we've seen popping up is a secret scullery feature where you think you're opening a large cabinet door in the kitchen, but it leads to an entirely new room," says Ryan Fitzgerald, owner of homes in Charlotte, NC.
The scullery is an extremely versatile room for the kitchen because it allows you to keep the room picture-perfect.
"The items you wish weren't always sitting on the kitchen counter but are, well, they can now be hidden away in the scullery," says Fitzgerald.
8. Alternative Appliances
With gyms closed in many localities, people are scrutinizing their diets more carefully. And as a result, the interest in healthy cooking options such as steam, sous vide, and air fryers have exploded, says Costa.
Expect this trend to continue into 2021 and beyond, particularly as more ranges now offer multiple cooking capabilities that help to avoid the clutter of endless countertop appliances.